Being completely transparent with your ideal guest is the quickest way for them to know, like and trust you/your holiday rental. Don't be afraid to show people what they'll get.
"For your ideal to feel confident in their booking decision, they need to be left with no unanswered questions."
Photos
What does your ideal guest need to see to make a booking decision?
Before making a decision to book in your holiday rental, every guest has their own subconscious checklist of 'must-haves' that they are looking for.
Now are you going to make that easy for them? Or difficult?
And I'm not talking about professional photographs either. Following a few simple tips can have your smart phone photos looking perfect for showcasing your accommodation.
Here's what you need to do:
1. Take photos from the corner of each room, and when I say in the corner, I mean right in the corner. Attempt to get the widest angle you can.
2. Open up all curtains and blinds to ensure your accommodation is flooded with natural light. Do not take photos at night time. Ever.
3. Set each space up to create photos with a 'lived in' feel. Cheese and wine on the back porch; beach towels by the pool; flowers in the kitchen etc…
Videos
How do you want your ideal guest to feel when they see your holiday rental?
Sometimes photos just don't do a place justice. How can you communicate across the special sounds that make your accommodation oh so unique? And how can you capture the movement that the powerful sea breeze orchestrates?
In addition to photos, videos will be your best friend when trying to communicate the atmosphere surrounding your accommodation.
Again, you already have adequate equipment! Whip out that smart phone and let's get started.
Here's what you need to do:
1. Buy a selfie stick. Getting your smart phone out of your hand and onto a small pole for stability is the first step towards creating beautiful video.
2. Don't just keep your smart phone in the one position. Use the selfie stick to your advantage and create amazing, sweeping shots as you show off the master bedroom, the view from the lounge, or the pool area.
3. Download an app such as InShot to edit together exciting and visually engaging videos. Easy to use, quick to edit creating powerful videos.
3D Virtual Tour
How can you give your ideal guest a tour without them actually being there?
The ultimate way to answer all of your guests questions.
Before making a booking your guest needs to feel confident that your holiday rental is right for them.
This is because the ultimate holiday experience starts well before your guests walk through the front door.
Here's what you need to do:
1. There are many 3D virtual tour systems and platforms out there, everything from creating your own to having one professionally captured. The following 3 would be my pick:
Low End – Samsung Gear 360
Mid Range – Ricoh Theta V
High End – Matterport
2. When creating a 3D virtual tour, the camera will capture everything! So make sure every square centimeter is exactly how it would be upon a guests arrival.
3. Make use of your 3D virtual tour! There's no point having one captured if it doesn't get seen. Place it on your website, send it out in an email campaign or place it on social media. The more channels, the better!
So now you have 3, (well, more like 9) different strategies you can implement right away to make your accommodation stand heads and shoulders above the rest.
Comment below and let me know which strategies you've already implemented and which ones you are keen to try next!
If any strategically works particularly well for you, I'd love to hear about your specific results. Send me an email at daniel@virtualinspections.com.au
Want 4 other killer strategies? Download this FREE REPORT now!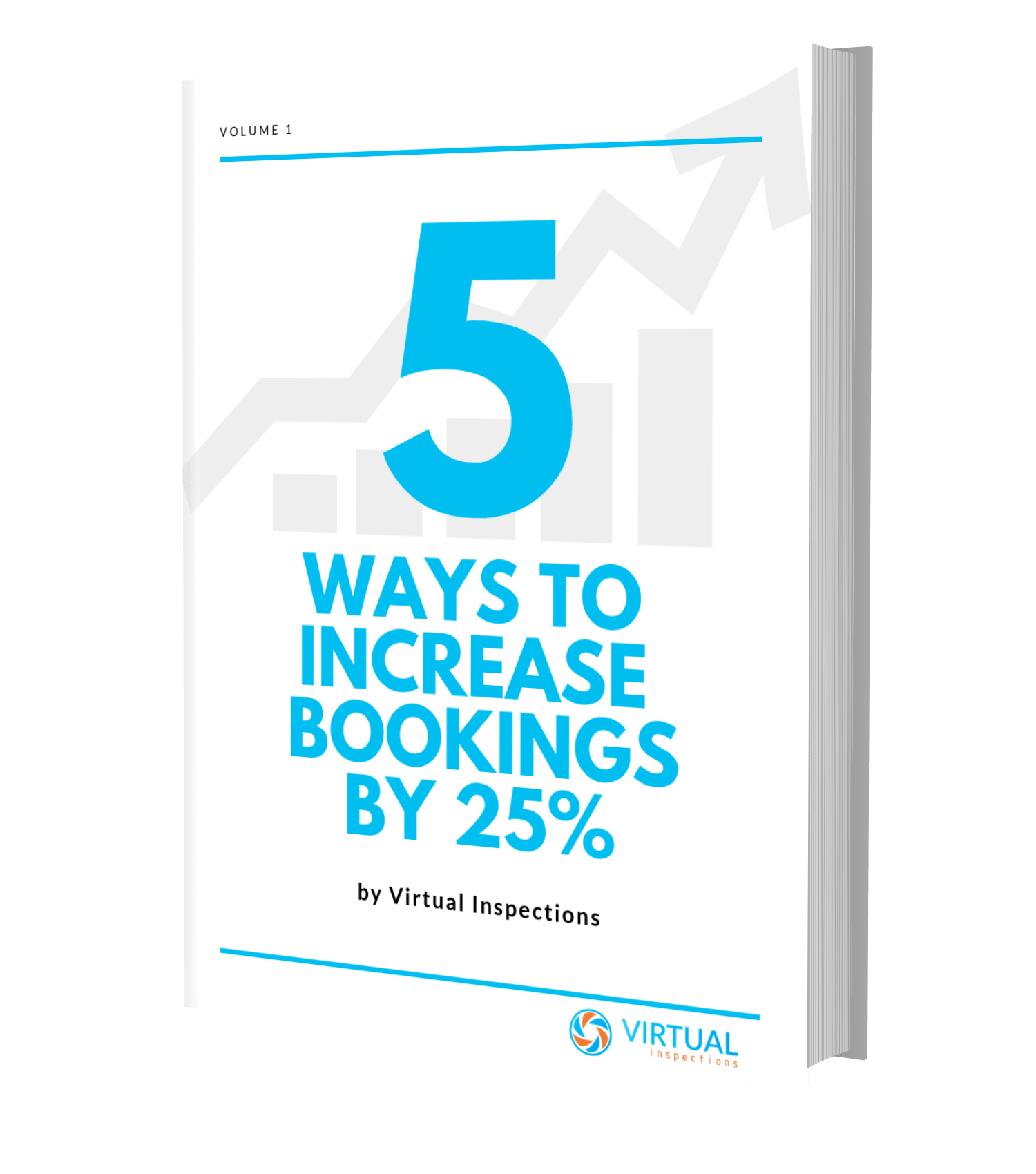 5 WAYS TO INCREASE BOOKINGS BY 25%
Free Report
We have worked with over 200 accommodation providers throughout Australia with a combination of the 5 unbelievably powerful strategies outlined in this free report. Download it now before your competitors do.